We are available around the clock.
| | | | | | | |
| --- | --- | --- | --- | --- | --- | --- |
| Ambulance | Emergency | Blood Bank | Pathology | Pharmacy | Radiology | Reception |
| 6609 9717 | 6609 9719 | 6609 9727 | 6609 9725 | 6609 9724 | 6609 9729 | 6609 9717 |
Nuclear Medicine
The Department of Nuclear Medicine, M. N. Budhrani Cancer Institute is equipped with a SPECT-CT scanner, The Infinia Hawkeye 4 Nuclear system from GE Healthcare which is the latest in hybrid scanners (i.e CT & SPECT Dual Head Gamma Camera).
It provides fully registered functional (SPECT) and anatomical information in a single image with a single examination. This helps us to determine the nature and precise location of the lesion. Fusion images from complementary modalities offer a more complete and accurate assessment of the disease.
Thyroid Scan
Indications:
Diffuse Goitre / Multinodular Goitre
Autonomous toxic adenoma
Toxic Goitre
Thyroiditis
Solitary nodular Goitre
Thyroid cyst
Iodine-131 Whole Body Scan in cases of differentiated carcinoma thyroid
Parathyroid Scan
Parathyroid adenoma/ Parathyroid hyperplasia
Ectopic location of parathyroid adenoma
SPECT – CT enable localization of retro thyroid, intra thyroid and other ectopic Parathyroid adenomas

Myocardial Perfusion Imaging / Stress Thallium
A normal stress MPI indicates a low risk (<1%) of developing any major event in the next 1 year irrespective of the risk factors- Journal of Nuclear Cardiology
Screening for IHD
Triple vessel disease, prior to CABG.
To look for ischemia in symptomatic post angioplasty patients
SPECT – CT provides for attenuation and scatter correction and hence accurate interpretation of myocardial perfusion images.

Bone Scan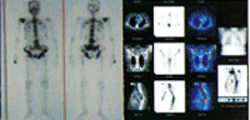 Primary bone tumor
Metastatic bone disease
Fractures not detected by X-Ray
Stress fracture v/s Shine splints
Osteomyelitis v/s Cellulitis.
Synovitis
Avascular necrosis
Metabolic bone diseases
Pagets disease
Fibrous dysplasia
Accurate localization by SPECT-CT helps differentiate benign from malignant lesions.

Renal Imaging (DTPA & DMSA Scan)
Bilateral / unilateral hydronephrosis
PUJ obstruction / VUJ obstruction.
Rental artery steno sis (Pre and post captopril studies)
Congenital malformations of kidneys – DMMSA scan (Horse-shoe kidney, duplex kidney, ectopic kidney)
Acute / chronic pyelonephritis –for cortical scars (DMSA scan)
Vesicouretic reflux
In renal transplant patients –ATN rejection, urine leak , lymphocoele formation, screening for donor
Direct radionuclide cystogram for determining vesicoureteric reflux (VUR)
GFR by "Plasma sampling methode" – a gold standard method for determining GFR (We are the first centre in pune doing this test)
HIDA Scan
Acute calculus / acalculus cholecystitis
Chronic cholecystitis
Sphincter of oddi dysfunction
Calculation of Gall Bladder ejection fraction
Duodenogastric reflux
Bile leak
Biliary atresia v/s Neonatal hepatitis
MIBI Brain SPECT
To differentiate viable tumor tissue from radiation necrosis in postoperative, post radiotherapy patients of high grade gliomas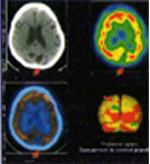 ECD Brain SPECT
Detection of dementias
Identifying epileptic focus
Evalution of psychiatric disorders
Assessment of stroke
Accurate functional information with anatomical localization by SPECT-CT plats
a major role in further management


Other Scans
Dacryscintrigraphy- painless, simple and patient friendly method to evaluate obstruction in the lacrimal system
Salivary gland scintigraphy
GI Bleed studies
Meckle's Scan (to determine functioning ectopic gastic mucosa)
GE Reflux Studies
MUGA Scan
Lung ventilation perfusion studies:to detect pulmonary thromboembolism , for quantification studies prior to therapy
Lymphoscientigraphy: To grade lymphoedema and decide upon the mode of treatment:medical/ surgical
Other Oncology Scans
Scintimammography
Tc-99m DMSA (V)for staging of Medullary Thyroid Carcinoma
Tc-99m tektrotyd scan for somatostatin receptor imaging
I-131 MIBG Scan
Lu-177 DOTATATE Scans for neuroendocrine tumors
Infection Imaging
Labelled WBC Scans
Gallium 67 Scans
Therapeutic Nuclear Medicine
Iodine -131 treatment in case if Graves disease/ Toxic goiters/ AFTN
Iodin-131 treatment in post operative cases of differentiated with carcinoma thyroid
P-32/Sm -153 / Sr-89 palliative pain therapy in cancer patient with multiple bone metastasis
I-131 MIBG therapy in neuroblastomas
Radiation Synovectomy in patients with Rheumatoid arthritis
We are recognized by BARC for giving Radioactive Iodine Treatment for Ca Thyroid Patients
Luthetium-177 DOTATATE therapy for well differentiated neuroendocrine tumours- We are the first facility in Maharashtra, approved by BARC for this procedure.
New Scans/Procedures
Dopamine Transporter Imaging Tc99m TRODAT Scans.(To differentiate essential tremors from early parkinson's).
Somatostatin receptor imaging: Tc-99m HYNICTOC and In-111 Octreotide Scans for neuroendocrine tumours.
Radiation Synovectomy for painful joints.
Palliative pain therapy in bone metastasis.
Lu-177 DOTATATE therapy in Neuroendocrine tumours.
Iodine-131 MIBG Therapy in paraganglioma, metastatic pheochromocytomas, neuroblastomas.


For further information and appointment,
Please contact: 020-66099862
(Monday to Saturday,9 am to 5:30 pm)